Giant Killer Comix- The so much awesome shit is out this week edition
Just wanted to take a minute to highlight a few—the many awesome comics that are out this week for your consumption.
First off, its like awesome trades galore , with the trades for the first volumes of both Fatale and Defenders out this week , as well as the third volume of the great morning glories.
I feel like I've already said a lot about defenders in at least one of the other posts , but allow to give you a bit of a condensed spark notes if you will ( blatant advertising! ) version of why you should be reading this comic.

We all complain about how marvel is putting out the same three books 4 times a month, that were tired of the same stuff over and over again being regurgitated , forced down our collective throats. But lets face the facts, when we get these weird awesome off the wall fun books like defenders, sales do not reflect that expressed desire. This is marvel giving one of the best most insane, fun , superspy , mega sex writers today a book where he has free license to make characters drink wakandan peyote and go on a spirit journey, and sales aren't exactly reflective of a book with wakandan spirit peyote.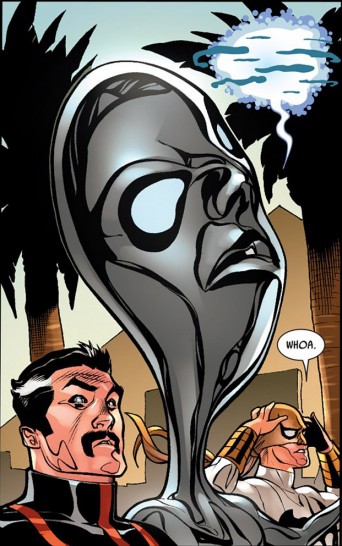 For the measly price of 16.99 , you get the first 6 issues, which encompass more content than 12 issues of some other books. I implore you , if you are one of these people who want more diversity in they're super books, please check it out. Fans of Casanova will dig this.

Onto Fatale. I don't really know what I can say about this book other than it is Brubaker and Phillips doing what they do best and writing totally amazing crime noir stories. But wait , there's a twist. Fold in some Lovecraft and you've got Fatale. Seriously these are two guys whose stuff you should be checking out regardless of what some dude on the internet says , but if you need confirmation: Hello internet, this book is fucking awesome.

Again, in terms of bang for buck this book is tops. Brubaker and Phillips know how to deliver.
Morning Glories : Well in terms of value , this one has it . its like two hundred pages for fifteen bucks. Seriously I really dig how Spencer and Eisma have always been super cool to their readers about content. Every issue of morning glories is like 3000 pages long for the same beautiful price tag of 2.99. Tonally the book remains like a weird mix of lost and maybe some Morrison thrown in there for good measure.   Honestly that's just a bullshit logline I'm throwing out to get you to check the book out if you haven't, its way cooler than that . Nick and Joe are doing cool stuff, so check it .

Out this week is also the first Brandon graham drawn issue of prophet. It will be awesome. I've already gone on enough graham related tangents here for you all to know its epic fun . Its about a robot named Jaxson. Do it up.
Issue 4 of Hell Yeah is also out, another book that's great fun. Word on the street is it also features a one page tiger lawyer story by Nick Wooster fanboy /writer extraordinaire Ryan Ferrier. Did I just cross the line and promote on of GKS OWN? DON'T CARE MAN. IT BE SUPA COOL.
I read this super awesome /weird Gilbert Hernandez book called SPEAK OF THE DEVIL . It was really crazy . I can honestly say I've never read anything else like it . Here's a sampling of it . You should check it out.

Gilbert has a new book out from darkhorse today called "FATIMA THE BLOOD SPINNERS" which also looks amazing. Here is a preview.
Anyways, nice to see you people. Talk soon.
Your friend Curt.
Xxoooxoxoxooxoxoxo
PS- do you love or hate lana del rey?